7-button zigbee wall controller - III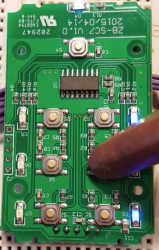 Click to view video
Here it is, the first attempt at a replacement module. All 7 leds are controllable, and all 7 push buttons work as intended.
Luck or good planning? I used up all the pins with no need to re-wire. If you know the esp8266 well, you will know there is a limited amount of gpio and even less of them can be shared/used flexibly as they are shared with other functions such as GPIO-0 to select boot mode.
The replacement module is going to be an ESP12 or ESP07 depending on signal integrity.
Eventually a PCB duaghter board will be made so that it can be a simple swap of the ORVIBO module.
For prototyping I used a nodemcu board as its the simplest to do trials on.
Some things to consider when planning the replacement module:
The push buttons on the mcu board are all pulled high
There is capacitors on the push buttons to do some hardware debouncing
The led's are driven by the HC595
The push buttons are directly connected to the module
The led's use up bits 1-7 of the HC595, 0th is left unused.
The leds are pulled low to turn on.
Voltage is 3.3v
Pin planning process
Use up any pins that can be pulled high at boot to connect to the push buttons
Next place the HC595 lines, for our purpose we only need 3 outputs - clk, data, latch. Due to the low speed, we can bit-bang the output, no need to use hardware SPI.
During the 2nd step, I needed 1 more output pin but there was none I could easily use. I moved one of the push buttons to ADC0.
Using ADC0 as a digital i/o is as simple as assigning a threshold to consider a 0 below, and 1 above. It was as simple as using 500 (1024/2 = 512).
Now I had the extra pin I needed for the HC595.
The results: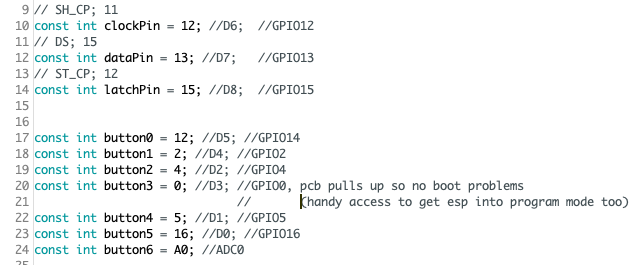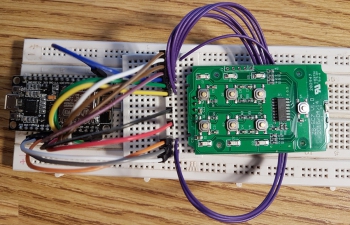 Success! See video up top.
The 7-button controller is working, all buttons are detected and acted upon, with the LED's reacting as well.
Code/Program
For the proof of concept, I simply made the leds toggle state one by one. Pushing a button would toggle that led.
Grab the POC Code here: esp8266-wall-switch-test1.ino
Whats next?
Integrate the ESP12 into the back of the ZB-SC7
Expand the proof of concept code into proper wifi-manager/ota/mqtt code.
Design PCB daughter/module board
---